A Ridley Road Market Stall

PUBLIC INTERVENTION - TRADING STORIES, 2017
Ridley Road market began in Dalston, East London in the 1880s and according to stall holder Larry Julian, has continuously changed 'in every decade'. I searched archives for historical materials, finding very little. Mary Benedetta writes about the market in 'The Street Markets of London' published in 1936.
A series of early 20th century London street market postcards, found elsewhere, echoes her writing, however there were none of Ridley Road.


In the summer of 2017 I produced a set of 10 Ridley Road Postcards. The postcards were chosen from photographs taken and donated by traders, locals and customers. Some were found, others acquired online. The oldest photograph was taken in the early 20th century, the most recent 10 years ago.
I set up a market stall, swapping postcards for stories. The stall became a space where traders and customers considered the past, present and future of the market.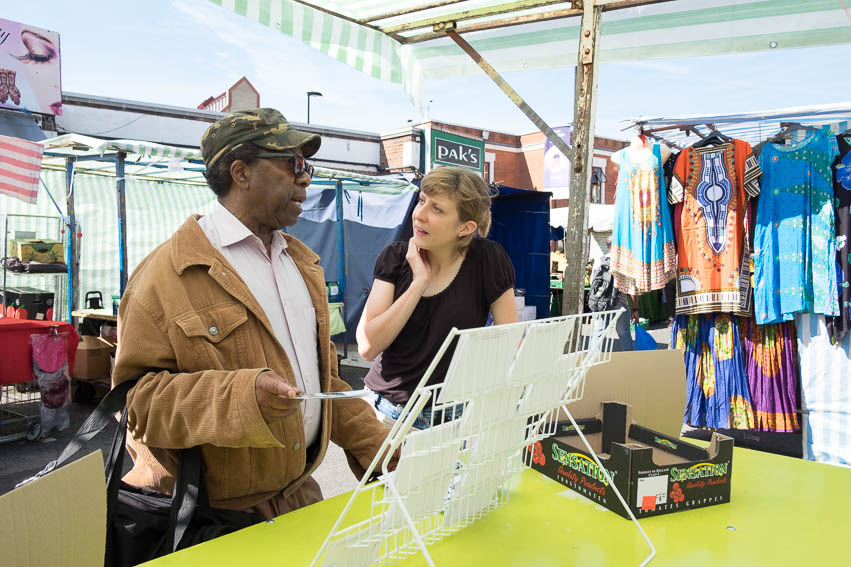 I am in process of
making a book
, featuring the stories recorded on the market, alongside my photographs. Due to be published in the autumn of 2019, it will include archival materials, newspaper cuttings and more. Postcards design by Katharina Tewes.
More about the postcards below and on the
Ridley Road Postcards Online Blog

Ridley Road Market, just off Kingsland High Street in the 1970s. Photograph by Alan Denney.




Looking at Ridley Road Market from Dalston Lane in the 1960s. Photographer unknown.


Ridley Road around NYE, 2009. Photograph by Miguel Echeverria.



'The Meat Palace' at the corner of Ridley Road and Kingsland High Street. Photographer unknown.



Kossoff's Bakery on Ridley Road, 1979. Photograph by Alan Denney.



Shop on Ridley Road, 1982. Photograph by Alan Denney.





Ridley Road fruitmonger Buster Cain became the youngest person to be awarded the George Medal for saving people's lives in teh Bltiz on 1st November 1940. Photographer unknown.

Comedian Bob Monkhouse visits Ridley Road, 1957. Photographer unknown.


Reggae Shack Ridley Road Market East London, 2015. Photograph by Payfone.


Trader Leigh Mayo with her Dad George, Ridley Road, 1980s. Photographer unknown.



Record Stall, Ridley Road Market, 1982. Photograph by Val Wilmer. *
* Waiting for permission to use.



---
All content © 2012-2019 Tamara Rabea Stoll. All rights reserved.