Road Less Travelled Resources
2021-22

Resources for publishing: manuals for zine making and bookbinding; a list of small-scale printers with a focus on worker-run cooperatives and collectives; links to the publishing practises of friends and collaborators; archives, libraries, and online platforms.
Thanks to the Adaptations Award by Artquest and DYCP/Arts Council England for their support. Find out more

here

about Road Less Travelled Press activities.
Archives, libraries and online platforms

MayDay Rooms, London

https://maydayrooms.org/
https://maydayrooms.org/leftovers/
Four Corners Archive, London
https://www.fourcornersarchive.org/
Bishopsgate Institue, London
https://www.bishopsgate.org.uk/archives
LCC Zine Collection, London
https://lcczinecollection.myblog.arts.a.uk/
Glasgow Zine Library, Glasgow
https://glasgowzinelibrary.com/
Interference Archive, New York
https://interferencearchive.org/
Monoskop, wiki for arts, media and humanities
https://monoskop.org/About_Monoskop
Artists Books Online - online repository of facsimiles, metadata, and criticism
http://artistsbooksonline.org/index.html
The Anarchist Library
https://theanarchistlibrary.org/special/index
Radical Libraries Collective - list of libraries
https://rlc.radicallibrarianship.org/radical-libraries/
Frauenkultur is an online resource archive for second wave feminist texts written between 1965-1995
https://frauenkultur.co.uk/
Collective publishing practises of friends
ACV are creating a living archive of community through print, digital and collaborative, real-life projects that bring people together
https://www.acvmag.com/
EYESORE collective
publish, organise talks, a publishing fair, exhibitions, screenings and workshops; all underpinned by a commitment to documenting and communicating experiences of the built environment.
https://eyesore.co.uk/
msdm
stands for mobile strategies for display and mediation and is a london-based house-studio-gallery with a holistic creative practice merging the fields of art photography, photobook publishing and mindfulness
https://www.msdm.org.uk/
Rabbits Road Press
is a community Risograph print studio and publishing press founded and run by
OOMK
.
https://
www.rabbitsroadpress.com/
Revolv Collective was established around the idea of collaboration and collective practices within the field of visual arts, with a focal point in developing innovative ways of teaching and creating photography.
https://revolv.org.uk/
Printing & book making
Community print shops, community arts and advice centres:
https://textb.org/t/radical_spaces_edit/
Riso printing
Rabbit Road Press, London
https://www.rabbitsroadpress.com/
Page Masters, run by Justin and Jordan, East L.
https://pagemasters.co/about
Footprinters Coop, Leeds http://
www.footprinters.co.uk/contact/
Offset printing
Aldgate Press Coop, London
www.aldgatepress.co.uk
Calverts Coop, London
https://
www.calverts.coop/
Good Press' long list of printers
http://goodpress.co.uk/print-resource-1
Bookbinding
Shepherds, London
[book binding tools and materials]
https://store.bookbinding.co.uk/store/
London Center for Book Art
[book binding tools and materials, workshop]
https://londonbookarts.org/
Bookworks, London
[workshops, talks]
https://bookworks.org.uk/
Center for Book Arts, New York
[online workshops and seminars]
https://centerforbookarts.org/
Paper
Paperback have been selling recycled paper since 1983
http://
www.paperbackpaper.co.uk/
Design/ typeface
BADASS LIBRE FONTS BY WOMXN aims at giving visibility to libre fonts drawn by womxn designers, who are often underrepresented in the traditionally conservative field of typography. These fonts are shared under Free, Libre and Open Source licenses, which allow anyone to use them, modify their design, contribute more glyphs or styles to their non-nuclear families, build upon them and redistribute them further.
https://www.design-research.be/by-womxn/
Road Less Travelled Manuals
You are welcome to download these to make your own publications. Manual for 3&5-hole pamphlet stitch
here
, Japanese stabbinding
here
, and Fold and Cut books
here
.
Elements of these manuals were compiled from a range of sources (including the London Centre for Book Arts, LCBA), modified and used for Road Less Travelled Press publications and in workshops; working with the 3 and 5-hole pamphlet stitch, Japanese stabbinding, and Fold and Cut bookmaking (Octavo & Accordionfold).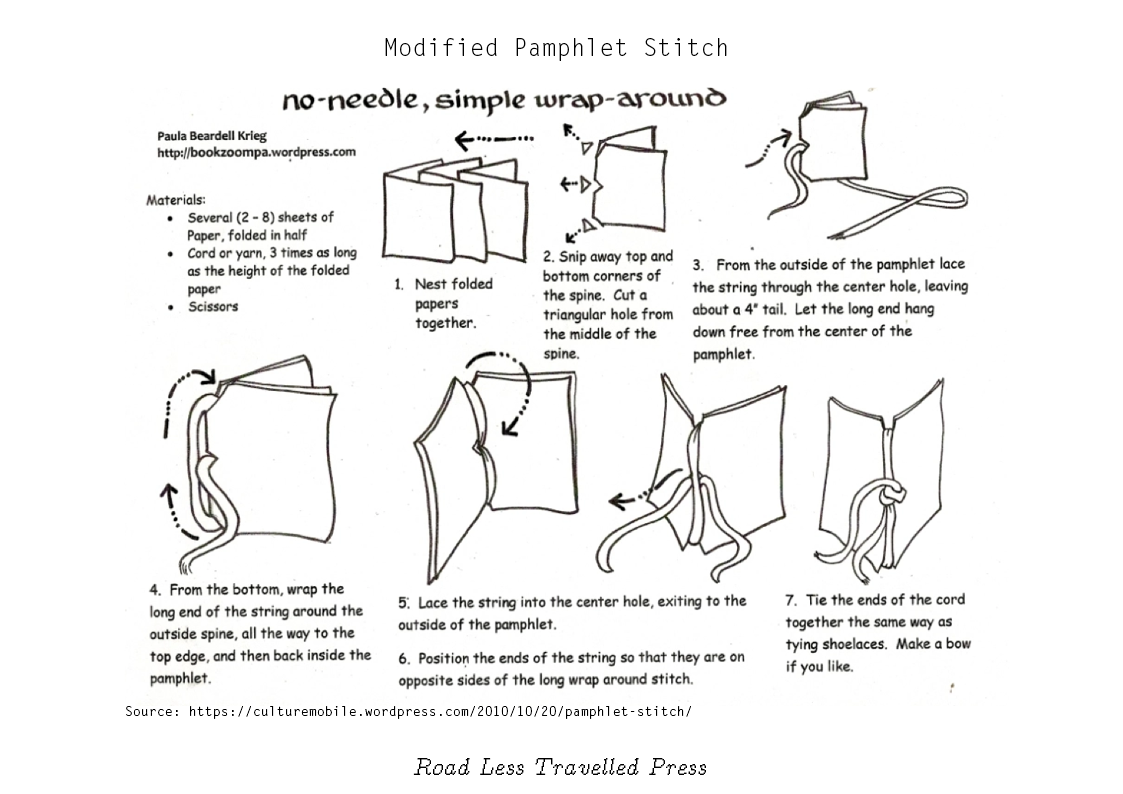 ---
All content © 2012-2023 Tamara Rabea Stoll