follow y/our river

lea-minal edges: prompts for transitory states of being
Collaboration with hḗrā santos and paula roush, published with msdm publications, 2023

Photography and texts: paula roush, tamara stoll & hḗrā santos. Editorial design: paula roush & tamara stoll. Typesetting: The Modern Designer

'follow y/our river lea-minal edges: prompts for transitory states of being,' is an open book to be activated by the reader. The sister publication
'Follow y/our river: a manual for deep mapping in the Lower Lea Valley,'
is a guide that paula and I created for the Photography program at London South Bank University where we teach. Our students were invited to conduct fieldwork along the river Lea using transdisciplinary approaches such as photographic, geographical, ecological, and experiential methods.
Supported by: School of Arts and Creative Industries / Centre for the Study of the Networked Image, London South Bank University
In the autumn of 2022, four years since our initial meeting at the River Lea Bow Locks where msdm publications studio was situated, paula, hḗrā, I embarked on a self-initiated artist residency along the Lea Valley. During this period, we engaged in dialogue, explored new research and formed connections along the fluid geography of the Lea Valley. Its timeline spans from ancient water sources and industrial waterways to contemporary urban hydro-spectacles, reflecting humanity's changing relationship with water over time, from a deity to a resource, from common use to private commodity.

hḗrā and paula worked on inscribing rituals for transitory states of being into the landscape of the Lower Lea Valley. I, on the other hand, engaged with people, animals and plant life I encountered along the river, starting at its mouth and following the waters thirty miles north, outside of London.

For our book launch and exhibition at Borough Road Gallery in May 2023, we developed an editorial lab for readers to create their own constellation of 'follow y/our river;' with field recordings and a performance by hḗrā in the gallery space.

Contents:

Map
Visual index, editorial texts and colophon. One poster duplex print, size 42 x 59,4 cm, colour, to fold into four pages

Ritual Landscapes
Landscape-scale ecology
Archive of the Transitory State of Being
Art therapy for a trans body
Body scans
Wet vortex
Nineteen spreads, duplex print, 29.7 x 42 cm, colour and black & white

Three Ways
Three posters duplex print, size 42 x 59,4 cm, colour, with instructions to fold into pocketbooks

Sixteen points of connection
Two stitched pamphlet, 20 pages, 27,8 x 20,8 cm, colour & 16 pages, 14,7 x 14,7 cm, black & white

Lea wateryquery
One book, 52 pages, 14.7 x 10.4 cm, perfect binding, colour and black & white

Prompts for transitory states of being
Three A5 postcards of Lea algea cyanotypes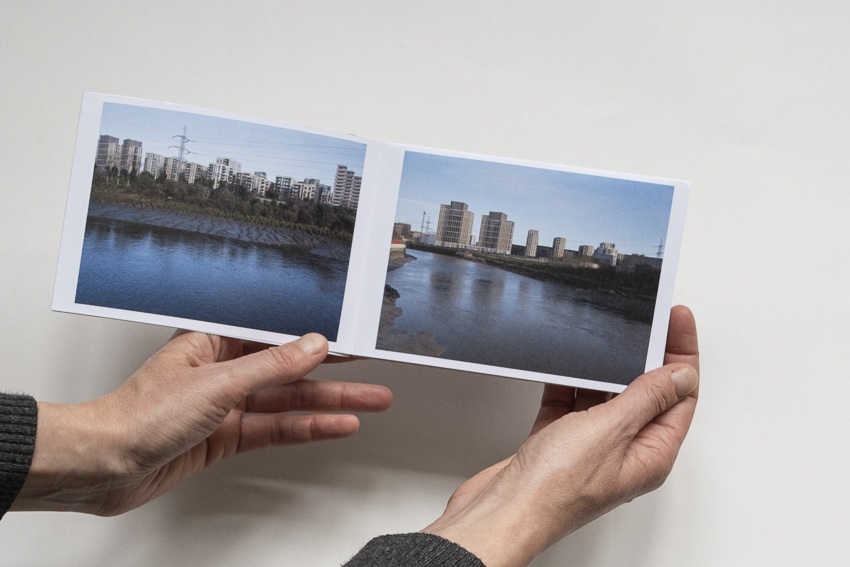 More information on
msdm
[mobile strategies for display and mediation] and availabe at msdm's
online store here
---
All content © 2012-2023 Tamara Rabea Stoll